www.

888poker

.com
There are many options to deposit real money to poker rooms, such as credit cards, bank transfer, uKash, Webmoney, Paypal and so forth. To withdraw money, poker rooms usually offer fewer options. In addition to the disbursement to the bank account, almost all poker rooms offer the option to cash out to Moneybookers or NETteller. If you are a serious online poker player who wants to withdraw his winnings, you should consider opening accounts at Moneybookers and NETeller.
Online Payment Options
Moneybookers and NETeller are online payment systems. Their advantage is that one can transfer his poker bankroll cheaply or for free between different poker rooms. Another advantage is that the money transfer happens almost instantly, in contrast for example to a bank transfer.
Moneybookers is a leading international online payment system and is subject to the laws of the United Kingdom and the EU, and the regulation of the Financial Services Authority (FSA).
NETeller is the leading system for the processing of online transactions. It is also approved by the FSA and has a track record over more than ten years of operations.
Real Money Transfer Options for Poker Players
We have illustrated the different options on how to transfer real money to and from poker rooms with the following reference: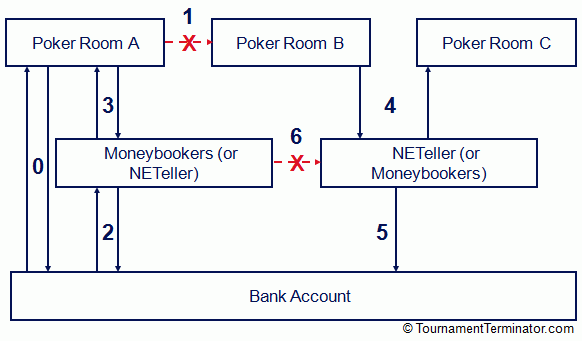 (0) This is the classic option for people who play only at one poker room. You deposit money at the poker room from your bank account (or credit card company), and you withdraw your winnings to your bank account later again.
(1) If you want to play at a new poker room, for example to grab yourself a nice poker signup bonus , it is not possible to transfer the money directly from one poker site to another poker site. A fast alternative to the transfer by bank is Moneybookers or NETeller:
(2-4) You open a free account at Moneybookers or NETeller, deposit money from your bank account (2) or from your poker account (3) and transfer it within seconds to a new poker room (4).
(5) You can withdraw your winnings with the help of one of the two online payment services.
(6) Please note that a direct transfer of funds from NETeller to Moneybookers or vice versa is not possible, you must make the detour "bank account" or "poker room".
Advantages and Disadvantages of Moneybookers and NETeller
Advantages
Once a free account is opened, the transfer of money is fast
There are no account maintenance fees for regular users
The transfer to and from online poker rooms is free or restricted to a small fee
The NETeller card offers almost a direct access to your poker winnings, as you can use it to cash out money at ATMs
Disadvantages
Withdrawing money to your bank account is not free
Since you usually play for US-Dollar in poker rooms, you may incur some exchange rate fees if you live in a country outside the U.S., e.g. UK or Australia
Although the money is kept safely at both Moneybookers and NETeller, they do not pay you interest on your funds (same problem as with online poker sites)
For security reasons, many poker rooms allow withdrawals only to that account from which the deposit has been made. This prevents someone hacking into your account and cashing out your bankroll to his own Moneybookers or NETeller account. This restriction however also applies to payment by bank account
Recommendation regarding Moneybookers and NETeller for Poker Players
If you play at more than one poker room, we recommend you to open at least a NETeller or Moneybookers account. These accounts are free for regular users. NETeller has the great advantage that you can have direct access to your funds at ATMs with the NETeller Card.
If you live outside the United States, you can also open two accounts. For example, one at NETeller in Euro and the other at Moneybookers in US-Dollars. With this setup, you can avoid paying fees for currency exchanges by using your Moneybookers account to transfer your bankroll quickly and for free between different poker rooms.